New Features
Show Original Personnel
This is a new ability to see the personnel originally scheduled for a slot in Viewer. To use this update, click on the cog wheel located at the top of viewer: . The menu will reveal a new checkbox: "Show Original Personnel"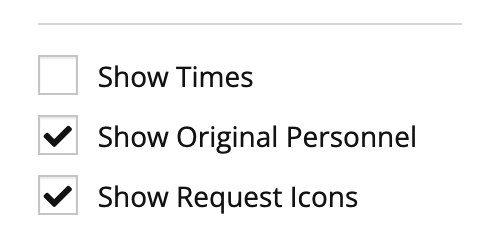 When checked, the schedule slot will show the original personnel in brackets, like below: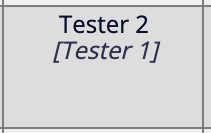 Searching in a List View
This is a new ability within Viewer to search the assignment information column when using a list view. To access this feature, load a list view and simply search for assignment information in the search bar above the list.
Open Views: Drop-down Searching
This is a new ability within Viewer to search the department drop-down and template drop-down in the views list. When in Viewer, select the current view name to access the views list. Listed views will appear on the right side of the screen. Underneath the "Open" section are the department and template drop-downs.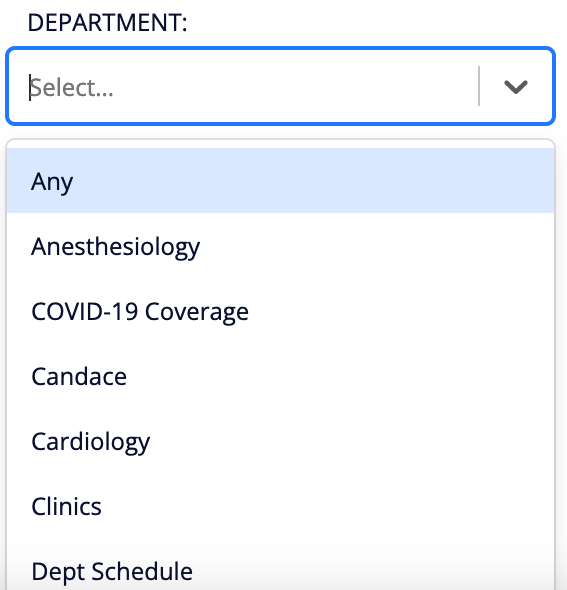 Assignment Information in Viewer
Assignment information is now available within Viewer. Click on a slot in Viewer and the assignment information will appear under the Details section if that assignment has information attached to it. Clicking on more will show the full assignment note. (Administrators can add assignment information by editing an existing assignment and clicking on "Additional Note." This additional note information will then appear as the assignment information in Viewer).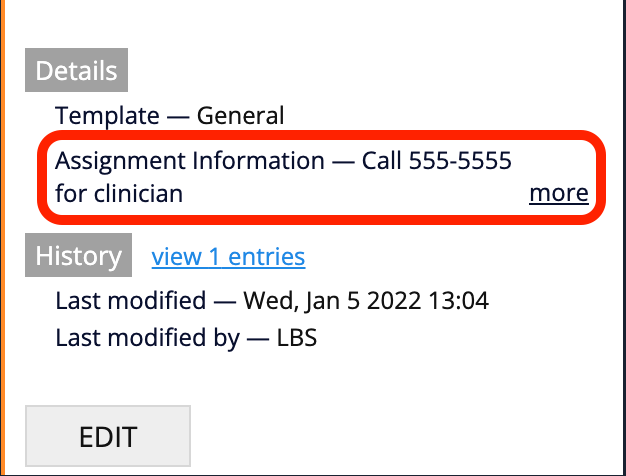 Add Shift Improvements
When using the "Add Shift" button in Viewer, a message is now displayed if a shift is added that is not currently in the view
Assignment Cloning
For administrators using Categories under Accounts and Permissions, cloning or deep-cloning an assignment now clones the category if one is set
Bug Fixes
Viewer
Add Shift: Window now closes when you click Accept on an incompatibility warning
Add Shift: Personnel list is now filtered to who's eligible if an assignment was selected first
Add Shift: Fixed an issue that prevented the submission of requests due to a request window
Add Shift: Fixed an issue where personnel and assignments were incorrectly displayed in a view when added
Filters: Fixed an issue where filters hid personnel who had a pending removal
Notes: Fixed an issue where adding a note caused an incorrect timezone warning