Updates:
Viewer: Column View Printing
This is a new printing option for columns and condensed column views that will allow you to scale the view horizontally, allowing for more columns to fit on one page. Please note, scaling vertically will still be done using the instructions found here. 
When selecting print from a columns view, you will be able to scale horizontally by adjusting the page scale slider from the print modal, seen in this screenshot: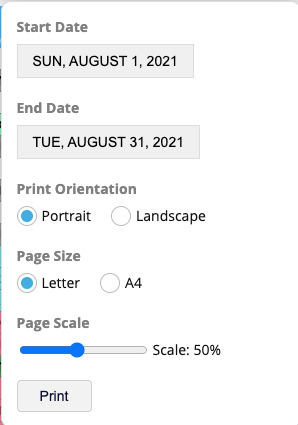 Viewer: Edit Tally Count
You will notice the date now displays in MM/DD/YYYY instead of DD/MM/YYYY.
Mobile App: Login Behavior
You will now remain logged in indefinitely until you manually sign out.
Bug Fixes
Accounts and Permissions: Instant Updates
There is no longer a delay with changes you make to your user accounts' permissions.
Viewer
Calendar Request Views now only print Request data, instead of Request and Schedule data. Likewise, Calendar Schedule Views now only print Schedule data, instead of Schedule and Request data. This resolves a bug that would display both types of data in a print, instead of only the selected type.
Saved Filters now apply a new filter when clicked without clearing the previous filter first.
Pending changes now correctly displays the "last modified by" user.
Gantt Views now display military time if your account has this feature enabled. Otherwise, standard time is displayed.
CSV exports will now show the correct date range.
Assignments: Locations
Locations are no longer editable when only one location is available as a default.