Updates:
Viewer: CSV Export
List Views can now be exported to CSV. For information on how to export a view to a CSV file, please visit here.
Additionally, clicking Export will now open a modal that will allow you to pick a date range for the export: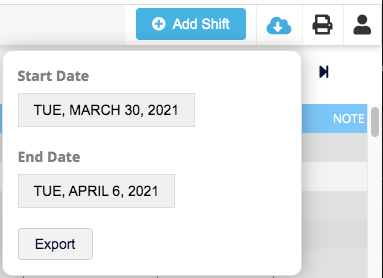 Viewer: Edit Tally Count
This is a new functionality for Administrators in Viewer that will allow Administrators to override tally counts for single slots. These new values will then be displayed in Reports, Viewer, Editor, and Analytics reports. 
Please Note: In order to begin using this feature, you will first need to reach out to your primary consultant to enable it for you. 
Please Note: Using this ad-hoc change option will not change the value of the tally count for use in rules. To do this, please change the value in the tally itself from Administration -> Setup -> Tallies.
For examples, screenshots, and workflow, please visit here.
Viewer: Add Shift Button
The Add Shift button now displays in Dashboard in the upper right-hand corner to allow for greater ease in submitting new Fills and Requests. 
Engage Page
The Engage Page is a new link that contains information on webinars, roadmap updates, and support articles. 
To access the Engage Page, while in the dashboard, click the Help > Engage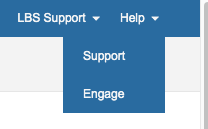 Bug Fixes:
Viewer: Printing
Previously, printing more than one week at a time on a Standard View with a display range of Weekly would case dates to shrink and not correspond to the correct column, this has been resolved.
Scaling down a condensed column view would result in multiple rows of columns even when there was room to fit on one page; this has been resolved.
Viewer: Add Shift
Using Add Shift to submit a Fill or Request would not submit reasons; this has been resolved.
View Manager: Block Views
Block Views previously would not aggregate personnel or assignments into one line; this has been resolved.
Viewer and Editor: Request Icons
An issue with Viewer and Editor not displaying the correct Request Icons for Published, Pending, Denied, and Deleted requests has been resolved.
Viewer: Well This is Embarrassing Error
Previously, replacing some assignments in Viewer resulted in a Well This is Embarrassing error; this has been resolved.