Add Shift
Overview
The Add Shift feature is an alternative way to make a fill or request on your Lightning Bolt schedule. This feature will allow Administrators and Providers to automatically create a fill or a request based on the days chosen in the submission.
Please note: If your schedule is set to allow requests even when published, all submissions via Add Shift will be a request.
Additionally: If you select days that would be a request, the tool will not allow you to select days that would be a fill from within the same interaction. Please create an additional submission for those days.
Using Add Shift
To access Add Shift, first navigate to Viewer. From here, the Add Shift button is located on the top right of your screen, next to the print icon as shown below:

Clicking the Add Shift button will bring up a window that will allow you to select the template, provider, assignment, and days for your submission. That screen will display as below: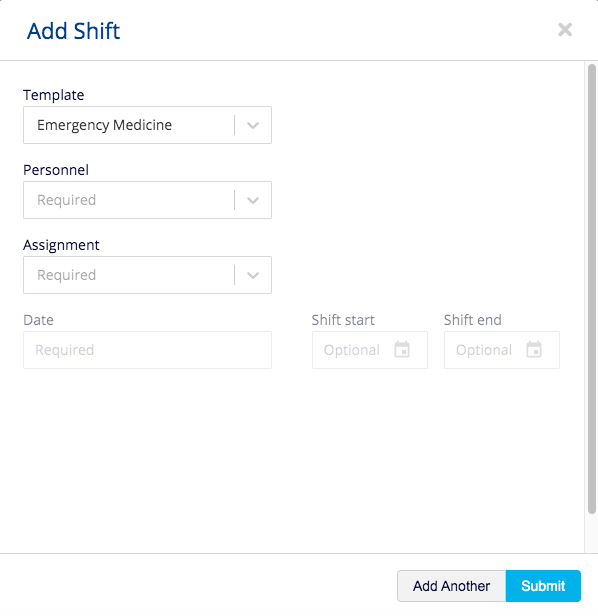 From here, personnel and assignments can be selected via the drop-down menus. The next menu will automatically be opened once a selection has been made. In order to select multiple assignments or personnel for one submission, you will need to select the Select Many option at the bottom of the drop-down.
After the provider and assignment have been chosen, there will be an option to choose the day(s) that the fill or request should occur. You can select multiple days for your submission by clicking on each individual day, or by using Shift + Click to select all days from your current selection to the next. For example, select March 1st and Shift + Clicking March 15th will select all days between the 1st and the 15th. The date picker tool is shown below: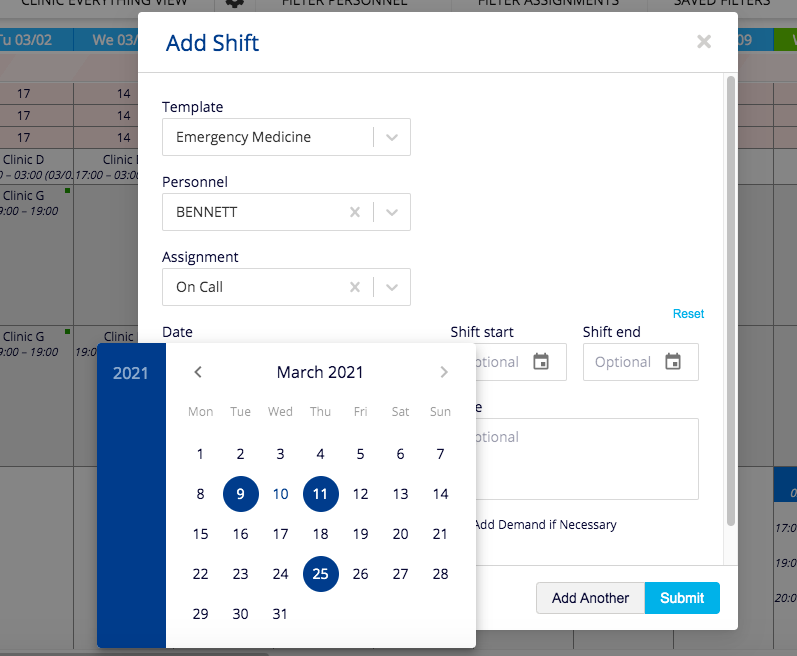 Once the dates are chosen you can update the shift start and shift end time and enter a note as necessary, as seen in the image above.
After these steps are completed, you can select submit to complete the Add Shift process. If you would like to continue and make another submission, you can select Add Another, shown above, to quickly create another fill or request. This feature will save your template, personnel, and assignment selections, allowing greater ease in creating multiple submissions.
Dashboard
The Add Shift feature is also now available from the LBLite dashboard for added convenience. The functionality will remain the same as found above, but with a more centralized location.