In Reports, you have the ability to monitor an unpublished schedule in real-time as you edit the schedule. This is can help make sure providers are given the proper number of assignments, or it can help make sure an assignment is equally distributed. This is called "Shadowing".
1. When working on a schedule in Editor, hover over the LB icon at the top left. Under "Reports", select, "Shadow Current". The report will open up in a new tab.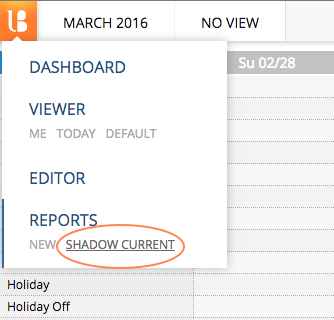 2. Configure any tallies and personnel you'd like to monitor, or select from your saved reports. For this example, I'm monitoring our Call assignments. Click "Go".
3. Now, whenever you make changes to the corresponding schedule, they will update in real-time in the report. For example, in Editor, I added "Call Shadow" for the week. In your report, it will notify you of any changes you made.