There are three tabs at the bottom of Editor called Errors, Daily Sums, and Change Log. When a schedule is too large to load all at once, a Fragments tab will also be displayed.
Change Log - Undoing Changes
When you are making schedule changes in Editor, you can use the Change Log feature to keep track of every change that you've made to your schedule since your last save.
The Change Log also allows you to rollback your schedule changes to any point in time between the present and your last save.
Opening up the Change Log
Once you've got a schedule open in Editor, locate the bottom menu bar and click on the Change Log icon to open up your list of changes.

A panel will then open up with a list of your individual schedule changes. Along with each change, the Timestamp and User columns tell you when each change was made, and the username associated with each change.



The color of each row denotes the type of schedule change made.
Red indicates a removal / deletion from the schedule was made.
Green indictates a fill / addition to the schedule was made.
Purple indicates a replacement on the schedule was made.
Rolling back your changes
If you find that you've made some accidental or incorrect changes to your schedule, you can use the Change Log to undo your changes and return the schedule to its previous state.
To rollback and undo your changes, open up the Change Log panel and click on the specific schedule change / point in time that you'd like to roll your schedule back to. Once you click on a specific change, a pop-up will appear.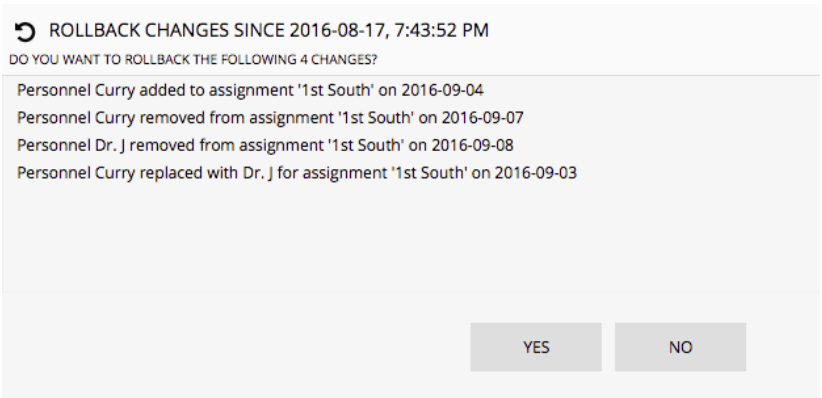 Click Yes to finalize your rollback point.
Note: Rollback will delete all changes after the point you have selected.
Daily Sums
The Daily Sums tab can be clicked at the bottom to see what a tally count is for each day. Clicking Add will allow you to add any tally that exists, and you can scroll left and right to view the sums for each day.

Errors
After attempting to save the schedule, you have the option to Highlight Errors instead of Force Save. The errors tab will then populate if any errors exist.

Compatibility: A personnel is on two or more shifts on a given day that are not set to be compatible with each other.
Demand: An assignment is set to have a mandatory minimum amount of providers on it, and that amount is not fully filled in. Generally this would mean that a required slot was not populated.
Role: A personnel is scheduled for a shift that they are not eligible for.
Expired: A personnel is scheduled for a shift which occurs after their last active date.
Conflict: A change has already happened on that slot since the schedule was opened.