Introduction to Views
Put simply, Views are a way to filter down your group's schedule so that you can quickly access the information you need. This article details
Different types of Views in the mobile app
How to change Views
How to set a default View in the All Schedules tab
At the bottom of your screen, you can toggle between the "My Schedule" and "All Schedules" tabs.
The My Schedule tab has a two pre-set views for you to choose from: List or Calendar. These Views are pre-set to show only your schedule.
The All Schedules tab has the custom Views created for your department. This is where you can see other providers on the schedule as well.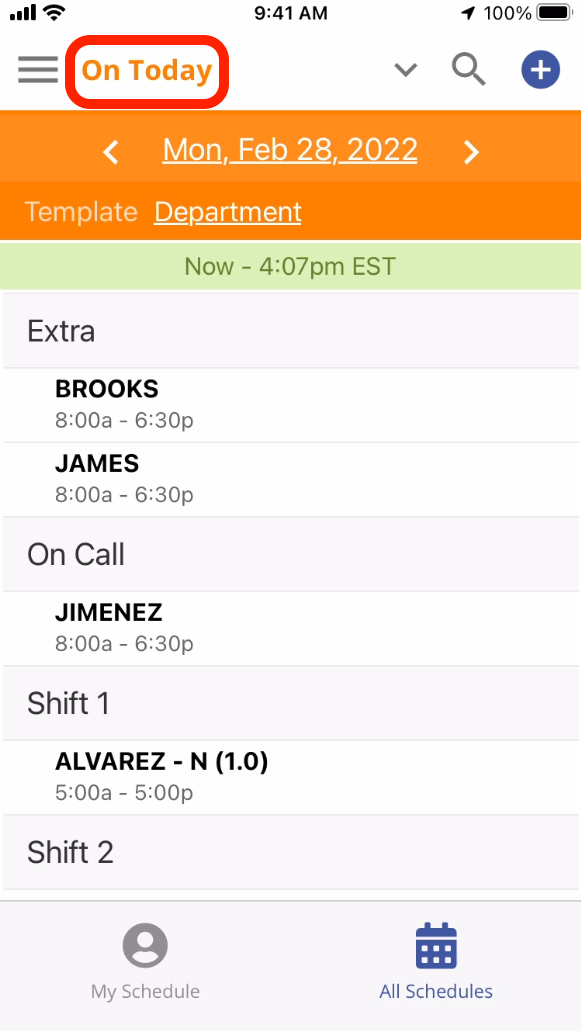 Changing Views
The All Schedules section contains your available Views. These views are the same Views that are available to you in Viewer on the desktop application, converted into a mobile-friendly format.
When navigating to the All Schedules section for the first time, you'll start in the On Today View (indicated at the top of the screen).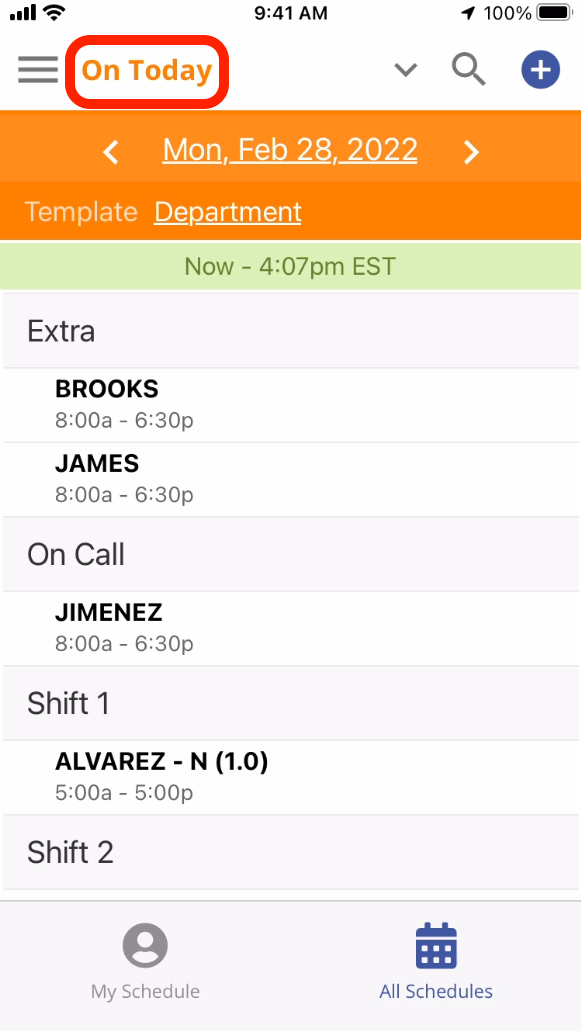 The On Today view will show you all of the shifts that are being worked today, along with the providers that are working them. Assignments are separated into three categories:
Now (assignments currently being worked)
Upcoming (assignments scheduled to start later in day)
Finished (assignments that ended earlier in the day)
To Change your Schedule View:
Make sure you are looking at the correct Template. If you are part of multiple schedules / groups, you can tap the Template name to flip between your different schedules / groups in this view.
To change your View, at the top of the screen, either tap the carrot ( ) or tap the name of the existing View (to the left of the carrot). The Open View page will then appear. The Views are divided into 2 sections: All and Favorites.

Favorites

The Favorites section allows you to easily access Views that you use the most.
To add or remove a view to or from "Favorites", click the star () icon to the right of a View name.

The On Today and My Weekly/Monthly Schedule Views appear by default in the "Favorites" section and are available to all users.

All

This is a list of all of the Views available to you.

Tap the view you'd like to load. If you have a long list of available views, you can use the search bar at top to locate a View quickly.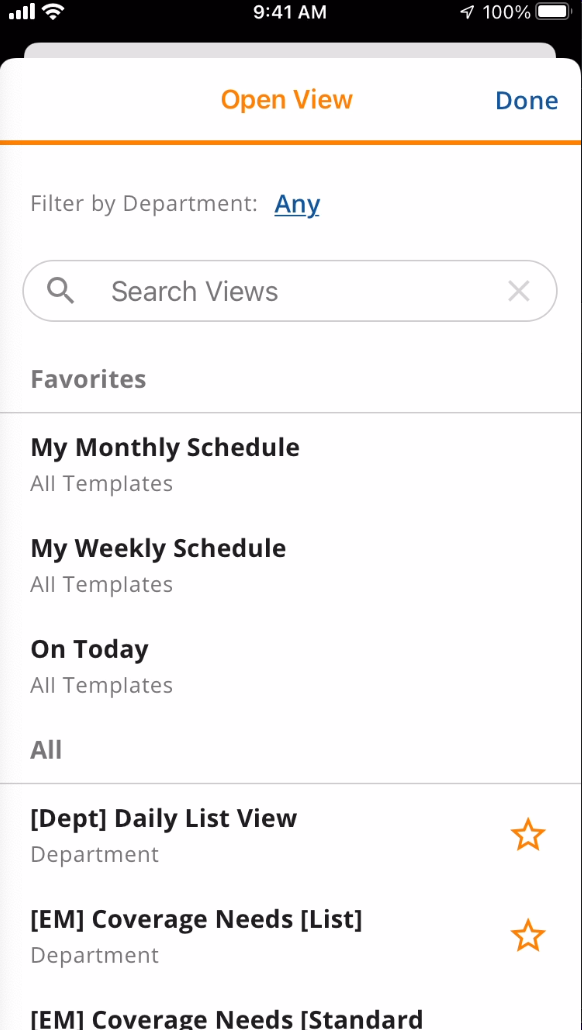 Setting a Default View
You may want to change the default View for the All Schedules tab in the Lightning Bolt mobile app.
To

edit the

default View

for the

All Schedules

tab, click on the hamburger menu (three horizontal lines) in the top-left corner of your screen.
In the side bar that appears, click on the Default View section.

Click on the View you would like to set as your default.
Now when you navigate to the "All Schedules

" tab at the bottom of the screen, your desired default schedule will automatically be applied.