Request Manager is the section of Lightning Bolt where setup regarding requests takes place. There are three sub-sections of Request Manager:
Request Rules
Request Window
Vacation Rounds
To access Request Manager, navigate to Administration>Request Manager from the Lightning Bolt Dashboard.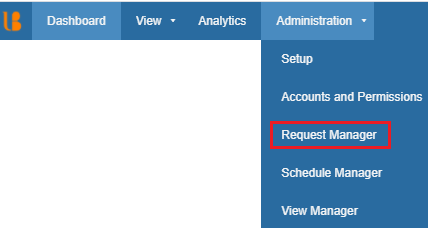 Once in the Request Manager section, you will be able to navigate between the three sub-sections by clicking the name of the section located just below the blue navigation bar. The subsection currently selected will be highlighted in orange.

Request Rules are rules regarding any requests made by your providers. These can be used if you want to limit the number of granted requests per day, the number of total request allowed per month, or a provider's maximum number of vacation requests for the year.
The Request Window allows the administrator to set the allowable date range for which requests can be made. The start date of a request window is in relation to your department's latest schedule end date.
Vacation Rounds is a draft style format for picking provider's vacations. If you think this is something your organization would be interested in setting up, contact your Consultant for more information.
It is important to note when working within the request manager, you will want to make sure you are in the correct Department and Template. You can switch between departments you are the admin for by using the drop-down menus located in the top right corner of the Request Manager page.